Introduction
This article written by Inderjeet Singh from Nottingham
The Gorkhas are the inhabitant of Nepal and reputed for their military tradition. Following the hard earned victory in the Anglo – Gorkha war (1814-16), the British started recruiting them which continues till today. Maharaja Ranjit Singh modernised his army in late 1820s but these infantry units were disbanded following British annexation of the province in 1849. The present Sikh regiment traces its origin to the Sikh infantry regiment created in 1846 by the British at Ludhiana and Ferozepur. However, the Sikhs from the Maharaja Ranjit Singh's territory, known as 'Majha Sikhs', were not recruited till 1857. Both Sikh and Gorkha regiment has won laurels in pre and post independent India. I am attempting to compile the engagement of royalty from these communities in 19th century.
First meeting – Kangra
The first meeting of Sikhs and Gorkhas was when their great general Amar Singh Thapa after conquering Kumaon and Garhwal (now in Uttarakhand) threatened Kangra in 1809. The ruler of Kangra approached Maharaja Ranjit Singh for help. The Maharaja agreed to help but he himself desired to annex Kangra. The Sikhs skilfully cut off Gorkha supply lines in their newly conquered territories east of the Sutlej and in Garhwal. The Gorkhas were trapped and had to surrender which ended their campaign towards the west.
Alleged proposal by Ranjit Singh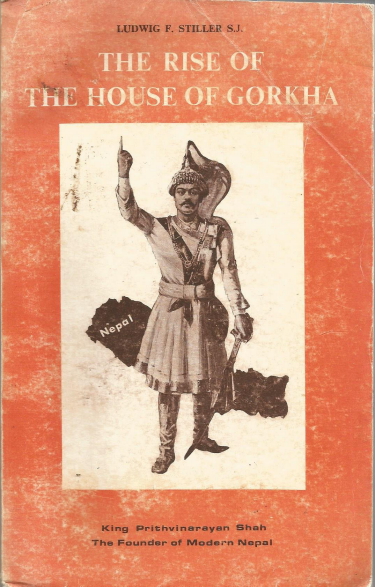 Ludwig F. Stiller in his book 'The Rise of the House of Gorkha' published in 1973 has stated that Thapa offered to pay Ranjit Singh if he would withdraw his army. Stiller alleges that Ranjit Singh made a counter proposal that if Thapa withdrew from the area, he would cooperate with the Gorkhas against the British. We are told this incensed the Nepalese General, who was aware, that ruler of Lahore has signed a treaty with British, that he imprisoned the Sikh messenger.
To make matters more interesting, Hari Ram Gupta in 'History of Sikhs, the Sikh Lion of Lahore' mentions that after the defeat at Kangra, Amar Singh Thapa tried to seek help from British in conquering Punjab. The British rejected his proposal and also expressed their displeasure to ruler of Patiala for his willingness to help Thapa against Ranjit Singh. HR Gupta adds that during the Gorkha war of 1814-16, Amar Singh applied to Ranjit Singh for assistance against the English. The Maharaja gave no reply.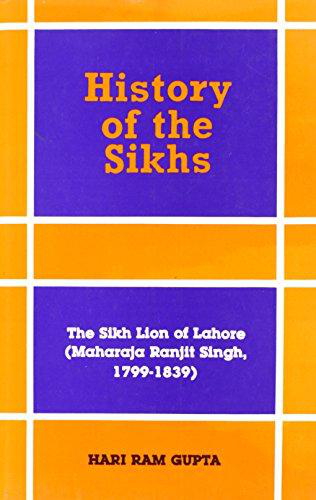 Gorkha's attempt to form tripartite alliance with Sikhs & Marathas (Scindia)
By conquering Kumaon and Garhwal, Nepal had blocked the trade route for British into Tibet. Things got tense and war was inevitable. They had an adversary in Ranjit Singh towards the west and British in east and south of their kingdom. Stiller has stated that the powerful Nepalese Prime Minister Bhimsen Thapa send emissary to Indian states including Gwalior, we are told that ruler Scindia was impressed but would only join if Ranjit Singh enters this alliance. However, the tripartite alliance was never formalised. It is suggested that Ranjit Singh was not keen on it. If we agree with Stiller's account, in 1809 Gorkhas did not accepted Ranjit Singh's proposal against British, 5 years later he rejected their proposal against the same adversary.
The Anglo – Gorkha war of 1814-16 resulted in defeat for the Gorkhas who lost Kumaon, Garhwal, kingom of Sikkim and much of the Terai region to British in the post war treaty. The British used massive military resources in this war as stakes were high. This was also done to discourage Indian rulers to open another front in this war. It may be mentioned here that Ranjit Singh had not modernised his army by this time. It was done in 1820s when French commanders of Napoleon came to his court for employment. Interestingly this treaty signed 200 years ago is mentioned by Nepalese whenever there is strain in India-Nepal relations.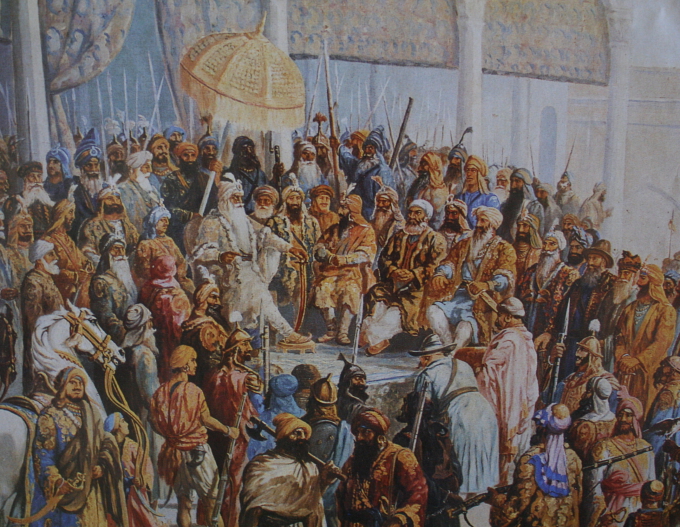 Gorkha's Regiments
The Maharaja was keen to have a Gorkha regiment in his army. In August, 1815, he recruited 10 Gorkha soldiers. An agent was sent across river Satluj and to persuade Gorkhas him on the temptation of better terms of service. Sometime later another attempt was made; an agent & Sangat Singh, Gorkha soldier in service with Maharaja were sent. Yet another attempt was made in April 1816.
Balbhadra Kunwar
Balbhadra Kunwar made his name during the Anglo – Gorkha war (1814-16). After the war, he went to Lahore, capital of the Punjab where many Nepalese had gone, to join the two new regiments formed by the Maharaja Ranjit Singh. Captain Balbhadra Kunwar was appointed commander of the new 'Lahure' regiment consisting entirely of Gorkhali/Nepali troops. During the Sikh-Afghan war of 1822, the Gurkhas in the Khalsa Sarkar fought bravely, but in this war, the brave Balabhadra Kunwar was killed by the Afghan artillery in Naushera, Peshawar region, now in Pakistan. Bhimsen Thapa, the Prime Minister of Nepal sent men to Lahore to collect information about this war and the death of his nephew.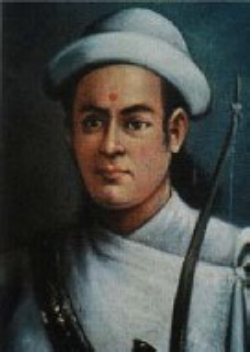 Nepalese mission to Punjab -1830s
After the Gorkha War of 1814-16, the Nepal Durbar was anxious to find allies against the British Government. They thought that Maharaja Ranjit Singh could be the best ally. They began sending presents and deputations occasionally but by 1830s these contacts became frequent.
1834 & 35
In 1834, the court of Nepal sent Captain Karbir Singh Khatri to Lahore. As Nepalese agent had to cross British territory to reach Lahore, they were under constant watch of the British. The British agent for Punjab & Frontier province was based in Ludhiana. When asked by the Maharaja, Wade advised him not to meet the Nepalese agent. They had to leave without meeting the Maharaja. A similar thing happened the next year when Kaji Kulu Singh was sent with Karbir Singh.
1836
Nepal decided now to send informal messenger to Lahore. In February, 1836, we are told by the 'Secret Consultation document of Foreign Department' that some reliable persons of the Nepalese ruler came to purchase pashmina at Amritsar. They were presented to the Maharaja their leader was granted a doshala, two others were given pashmina chadars and the rest of them one dupatta each. HR Gupta adds that they were exempted from octroi charges. In June, 1836, the vakil of the Nepalese ruler offered 2 elephants and other gifts to Maharaja. He brought no letter for fear of interception by the British Government. He was granted given many gifts on his return.
May 1837
India 1823 (190K)Rulers of Indian subcontinent were poor in diplomacy compared to the British who would easily outmanoeuvre them but it seems that Nepal & Khalsa Sarkar had by now learned some of this skill. In May, 1837, a Nepalese mission consisting of Kalo Singh and Captain Karbir Singh arrived at Ludhiana on its way to Lahore. They told Captain Wade that they had brought a sacred bell to be presented to the temple of Jawalamukhi Temple by personally securing the Maharaja's permission (as it was in his territory). Captain Wade permitted them to go to Lahore, on the condition that an employee of the Ludhiana Agency would keep them company all the time to report on their activities. It is reported that Maharaja replied that both Nepal & Khalsa Sarkar had common interests and there should be a frequent exchange of presents and other civilities.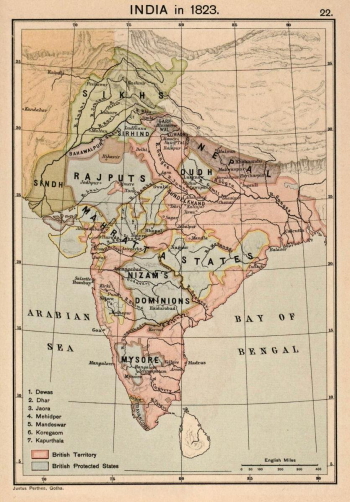 This worried Wade who reported to his fear to British government that Nepal's example might be followed by other Indian states to establish friendly relations with Khalsa Sarkar that could lead to the balance of power against the British Government.
June – Oct 1837
Dr Gupta states that in June, 1837, 'some reliable persons of the Raja of Nepal' arrived in Amritsar there with some presents. Maharaja asked Faqir Nuruddin to look after them. The next month Kaji Kanu and a captain from the Nepalese ruler came with presents. They were shown the drill of the platoons of General Ventura. On 11th September, 1837, the vakil was shown the fort of Gobindgarh at Amritsar. They were given farewell gifts on their return in October 1837.
Matabar Singh episode 1838
Matabar Singh was a nephew of Nepal's Prime Minister Bhim Sen who had been dismissed from office in 1837. He was allowed by the ruler to leave on payment of a sum of seven lakhs of rupees. He wanted to visit Lahore but was detained at Ludhiana. By this time Nepalese Prime Minister had become very powerful and the office was hereditary. Matabar Singh was a former high military official and nephew of the Prime Minister so British had every reason to suspect.
The Maharaja wrote to Wade to issue him a passport. Wade referred the matter to the Governor-General Lord Auckland refused permission and on 20th September, 1838, enquired from Wade: "What expedition was being planned by the Sarkar for which his services were required"?!
The Nepalese ruler wrote to the Governor-General in support "Matabar Singh has left according to our wish for a pilgrimage to Sri Jawalaji and the Durbar Sahib at Amritsar and to attend upon the Maharaja to strengthen the relations of friendship and unity between the three Governments. He may be granted a passport in writing so that he might secure a happy interview with the Khalsaji, and might return afterwards unmolested."
Eventually British relented but Matabar Singh was allowed to cross to Khalsa Sakar territory only with an employee of British Agency who watched his activities. He presented himself before Maharaja in April 1838 but he had to leave Lahore in March 1839 due to British opposition. By this time Maharaja was very ill and 3 months later he passed away but this did not stop the desire of the both governments to have an alliance.
Bhupal Singh' mission 1840
Bhupal Singh and Arjan Singh were the sons of General Amar Singh Thapa. Bhopal Singh held a military post in General Ventura's Special Brigade. Arjan Singh obtained service in another regiment. It will not be inappropriate to say that on account of their high status in Nepal, they were the means to bring about friendly relations between the two governments. Bhopal Singh went to Nepal in 1838, but he maintained his communications with Lahore through his brother. Two years later Bhupal Singh was selected to lead an embassy to Lahore. He left Kathmandu on June 1840, but the mission returned without transacting much business owing to the death in Lahore of crown Prince Nau Nihal Singh.
Sikh & Gorkha alliance via Tibet
JD Cunningham in his book 'The History of the Sikhs' first published in 1849 writes that the British suspected that Sikhs and Gorkhas (Sarkar Khalsa & Nepal) wanted to form an alliance. Based on the number of missions sent by Nepal to Lahore, we can safely conclude that this seems the case. It seems that we are missing one mission from Nepal to Lahore after 1840 which led to Maharaja Sher Singh's consent to Zorawar Singh to lead a campaign to Tibet in early 1841.
Victor Jacquemont, a French botanist and geologist visited Lahore in March 1831 and later passed away in December 1832. His letters were latter published and gives an insight into inquisitive nature of Maharaja Ranjit Singh. In one of his conversations with the French Botanist, Maharaja asks him about Tibet. The former told him of high altitude, cold weather, barren land and poor country. Victor advised that Maharaja should use his Gorkha regiment for this campaign. The Maharaja has been quoted that he will not bother to conquer a poor country.
By June 1841, General Zorawar Singh had overrun a 1000 miles of territory in western Tibet. When he was in a Taklakot, an emissary from Nepal (their border was just 20 miles away) came who was received with courtesy and honour. The British official at Garhwal (in India) who was also not far away send a friendly advice that it was going to get very cold in coming months and Zorawar should turn back and stay winter at Leh. In the end Zorawar Singh lost his life and the war to bitter cold in December 1841. A subsequent war after few months resulted in victory of Khalsa Sarkar which led the signing of the famous treaty of Chushul where it was agreed that both parties will honour territorial integrity of each state.
According to 'Tibet A Political History' by WD Shakabpa about 200 soldiers (Sikhs & Ladakhi) of Zorawar Singh decided to stay in Tibet in 1842 after the peace treaty. They married local Tibetan women and were settled in lower and warmer parts of Tibet and introduced apples, grapes, peaches and apricots in Tibet. The figure of 200 is on higher side.
In 1855 Nepal won a decisive victory over Tibet. Gulab Singh Dogra now Maharaja of J&K, asked British to repatriate these soldiers. In the subsequently treaty signed by Tibet and Nepal in 1856, the latter added a clause (at the behest of their allies British) that soldiers of Zorawar Singh would be returned. 106 former soldiers were received at capital Kathmandu but only 56 decided to return back to India rest (50) declined as they had families in Tibet. Clearly these soldiers were not prisoners.
Medals given
Most interestingly, in January 1857, when 56 soldiers left in Tibet following the Tibetan-Sikh war of 1841 were repatriated back to India through Nepal, the Nepalese ruler at Kathmandu received these soldiers with honour and respect. They were given silver medal of appreciation. One such medal was put on auction by Spink in London in 2015.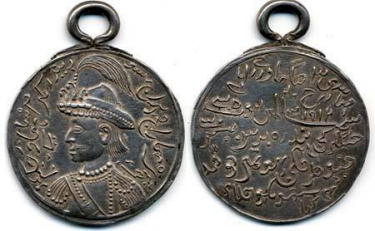 The medal have an inscription in Urdu (transliterated by my friend Mirza Baig of Jhelum) and the English translation is as follows "(Presented to) By the orders of Sri Maharajadhiraja Surendra Vikram Shah Bahadur and Sri Jang Bahadur Rana Maharaja in Samvat 1912 (1855-56 CE), in war with Tibet secured the release of Khalsa soldiers from Jammu who were imprisoned for 15 years."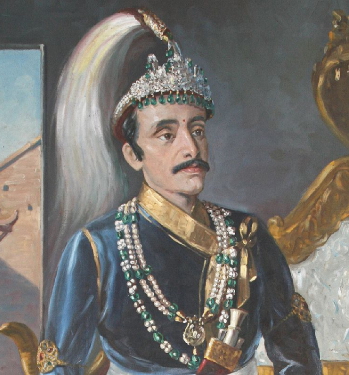 Following the victory of Nepal in the third Gurkha-Tibetan war in 1855, one of the clauses of the subsequent peace treaty signed in 1856 specified that the Khalsa Sarkar prisoners captured in 1841 be released. The clause was inserted at the request of the British acting on behalf of Gulab Singh Dogra , who was now their ally.
The question arises that why would the Nepalese ruler present these defeated and stranded soldiers from Khalsa Sarkar with medals? The inscription is self glorifying but these soldiers were also given robe of honours. It seems that the British suspicion was not unfounded that Khalsa Sarkar and Nepal had nefarious plan to form an alliance once they became neighbouring states following the conquest on Western Tibet. Although these soldiers failed to complete this goal but it seems that the Nepalese ruler recognised their difficult campaign and commended their efforts. Obviously it was not done in so many words as Nepal was a British ally now.
Descendant of Zorawar Singh's soldier in Darjeeling
Col (Retd) Sarabjit Singh told me that in 2002 when he was posted at Darjeeling as Commandant GRD, GHOOM (Darjeeling) he met a descendant of the Sikh soldier of Zorawar Singh who stayed behind in Tibet. This person ran a shop in Chourasta Bazar in Darjeeling informed him that his ancestors were Sikhs. Col Singh (with turban and beard) had been to the shop 3-4 times before and this Tibetan person volunteered this information. He told him that his ancestors were Sikh soldiers who went to Tibet with Maharaja Ranjit Singh's army but later were taken prisoners by the local Tibetan army. After the treaty, the Sikh army refuse to take them back and these soldiers married local women and their descendants tried to embrace the Buddhist faith but were not accepted by the local Tibetan community. Then gradually these people converted to Islam, the only other religion in the region (This is confirmed in the Tibetan book 'One Hundred Thousand Moons: An Advanced Political History of Tibet') Col Singh informed me that there would be definitely more such people in Darjeeling.
Although this Muslim Tibetan gentleman with Sikh ancestry got one bit wrong i.e. Sikh army refused to accept back the prisoners of war, this account further strengthens the claim that Sikh soldiers accompanied Zorawar Singh.
Maharani Jindan at Nepal
Maharani Jind Kaur or Jindan, wife of late Maharaja Ranjit Singh and mother of Maharaja Duleep Singh was a constant 'thorn on the side' for British after first Anglo- Sikh war (1845-46). She was a woman of great determination and British feared her more than anyone else in Punjab. Jind Kaur was capable of initiating a revolt against the British which the latter was well aware. Many allegations including attempted murder of British official and conspiracy were made against the Queen and the British initially removed her from Lahore to Sheikhupura in September 1847 and then expelled to Banaras. In 1848 when Diwan Mulraj and Sher Singh Attariwala revolted which came to be known as Second Anglo-Sikh war (1848-49) allegations were made that Jind Kaur was in correspondence with them. British removed her to the Fort of Chunar from where she escaped to Nepal disguised as a maidservant.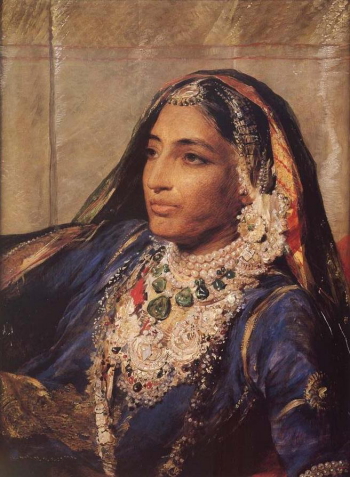 The Sikh Encyclopaedia by Dr Harbans Singh states that Maharani Jind Kaur arrived at Kathmandu on 29 April 1849. The British Government promptly confiscated her jewellery worth rupees 9 lakhs and stopped her pension. Her sudden appearance in the court of Nepal was both unexpected and unwelcome. Yet Jung Bahadur, the prime minister, granted her asylum, mainly as a mark of respect to the memory of the late Maharaja Ranjit Singh.
Dr Harbans Singh adds that a residence was given to her at Thapathali, on the banks of the Vagmati River in addition to an allowance for her maintenance. The British Residency at Kathmandu kept a close eye on her throughout her stay in Nepal till 1860 which is recorded in their papers. The British believed that the Maharani was 'engaged in political intrigue' to secure the revival of the Khalsa Sarkar in Punjab.
The stay of Jind Kaur at Nepal was not a pleasant one as under constant pressure from the British, the Nepal Darbar had turned hostile towards the Maharani imposed many restrictions on her. But the former Queen was defiant and quietly protested at the indignities and restrictions imposed upon her by Jung Bahadur. When Jung Bahadur expelled one of the key attendants, the Maharani dismissed the entire staff given by Nepal Darbar.
The Sikh Encyclopaedia quotes the Nepal Residency records that Jind Kaur was ordered to appear in person in the Darbar to acknowledge Nepalese hospitality, which she refused to do. This widened the wedge between her and Jung Bahadur. Residency records states that an open rift look place, and "several scenes occurred in which each seemed to have given way to temper, to have addressed the other in very insulting language." Towards the end of 1860, the former queen was informed that her son, Maharaja Duleep Singh, was about to return to India and that she could visit him in Calcutta. She travelled to Calcutta to meet her son who took her with him to England. This ended the chapter of the meeting of Sikh-Gorkha royalty. Maharani Jind Kaur died less than 3 years later at Kensington in England on 1st August 1863. This ended the interesting history of Sikh & Gorkha royalty which lasted just under half a century.


Inderjeet Singh
The author is a Nottingham (UK) based amateur historian with a keen interest in Punjab and Sikh history. He writes regularly for Sikhnet and runs a blog.
This article was first published on Sikhnet