The police strengthened security measures at Singhu and Ghazipur Borders sites.
In a video posted by Twitter user and Journalist Anurag Dhanda, it appears to show the police barricading and force at what appears to be the Ghazipur Border.
Workers were seen embedding iron rods into the cement barriers along the Singhu border. Another part of the Delhi Haryana Highway saw construction of a cement wall between barricades.
The government has taken upon themselves to strengthen the barricades by increasing the force and number of barriers at all three farmer protest sites.
सरहद pic.twitter.com/ogmZfIlxCJ

— Anurag Dhanda (@anuragdhanda) February 1, 2021
Cement was poured between the barricades to strengthen the separation between the protesting farmers and the police personnel.
Metal spikes were embedded for the prevention of any tractors crossing past the barriers.
Budget preparation by Delhi Police at Tikri Border last night. 🤔 pic.twitter.com/1sTf199ccE

— Anurag Dhanda (@anuragdhanda) February 1, 2021
NDTV Video shows the extent to the barricading:
#FarmersProtest | Internet ban in Singhu, Ghazipur and Tikri borders extended till tomorrow

NDTV's Akshay Dongare reports from #SinghuBorder pic.twitter.com/vkUhJPDW0G

— NDTV (@ndtv) February 1, 2021
The Indian Express reported that walls were being poured at Singhu Border:
Iron bars hooked between barriers, cement poured in to create makeshift wall at Singhu border

Read more: https://t.co/ZgtIRB5nBH pic.twitter.com/Y0RRQ7OZcR

— The Indian Express (@IndianExpress) February 1, 2021
WATCH: A small report from Tikri Border. Roads dug up, big boulders put and now big nails plastered on streets to stop farmers and tractors from entering the national capital.
WATCH: A small report from Tikri Border. Roads dug up, big boulders put and now big nails plastered on streets to stop farmers and tractors from entering the national capital.

I report. pic.twitter.com/VOaxHYSbwo

— Prashant Kumar (@scribe_prashant) February 1, 2021
Extensive security arrangements ensured at Tikri Border. pic.twitter.com/lqMIyAvaqt

— Prashant Kumar (@scribe_prashant) February 1, 2021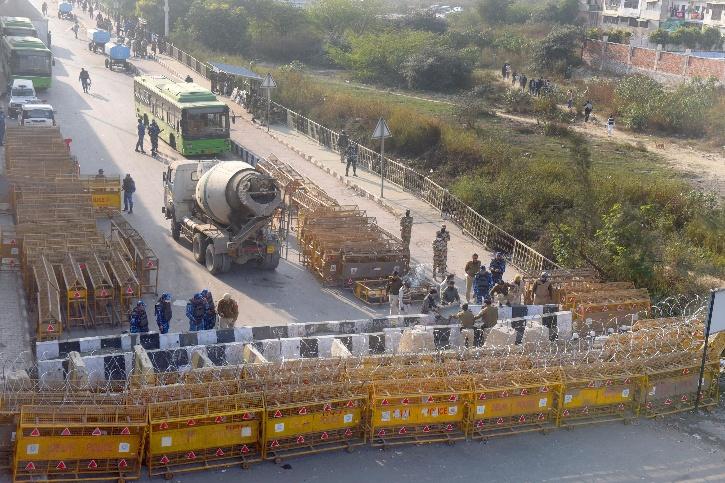 ये सब क्यों?
अपने ही किसानों से क्या युद्ध करना है?
इन तरीक़ों से कोई नहीं जीत पाया आज तक#KisanAandolan #kisan pic.twitter.com/lKQPZvkJb9

— Aditi Rajput (@RajputAditi) February 1, 2021