Veteran actor Balraj Sahni, who taught in Santiniketan in the late 1930's, asked Rabindra Nath Tagore that,
"You have written many important anthems for India. Why not write an international anthem for the whole world?"
"It has already been written, not only for the world but for the entire universe. It was written in the 16th century by Guru Nanak," replied Tagore referring to the Aarti (the ceremony of light).
In fact such was his love and respect for the verses that Tagore personally translated it too in order to make it reach many more, not knowing the language (Gurmukhi). And shared below is the first stanza of the same which I have tried to translate in English for all interested fellow seekers on the path as beautifully expressed by Guru Nanak."Gagan Mai Thaal Rav Chand Deepak Baney,
Tarika Mandal Janak Moti,
Dhoop Malyanlo Pavan Chavro Kare
Sagal Banraye Phulant Jyoti,
Kaisi Aarti Hoye Bhav Khandna Teri Aarti.
Anhata Shabad Vaajant Bheri"(Aarti – The word having its Sanskrit origin symbolizes the loving prayers performed as a ceremony, greeting and expressing gratitude towards the one supreme power.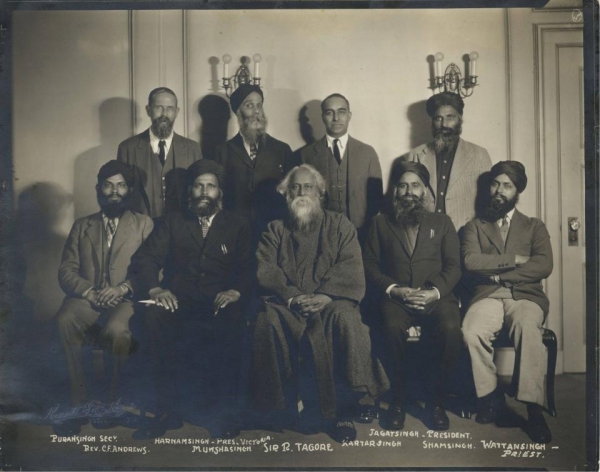 And representing the same Guru Nanak beautifully describes how the whole universe is performing an Aarti in reverence towards the Almighty through its spellbinding nature around.)

"The sky is the cosmic plate or bowl, the sun and the moon are the brightly shining lamps placed. The twinkling stars and the constellations are like jewels and pearls in it. The fragrance of sandalwood in air becomes the incense spread by the flowing wind. And all the plants (greenery) around us are the flowers offered to you.What wonderful is this Aarti continuously happening in the universe.

O Destroyer of fear, Lord, this is your ceremony of lights, your Aarti, with the mystical music in the un-struck sound of the Shabad playing like the temple drums.What wonderful is this Aarti continuously happening in the universe! O Lord, Your Aarti"

This original Aarti (of four stanzas) composed by Guru Nanak is included twice in Guru Granth Sahib. However the present version sung in Gurudwara's has four more stanzas added to it penned by Bhagat Ravi Das, Sant Sain, Sant Kabir & Bhagat Dhanna along with the final touches coming from the tenth guru of Sikhs, Guru Gobind Singh.And what better example one can find of practicing equality in humanity while remembering that supreme power, the One Almighty………Ek Onkar……through such amazingly peaceful & spiritually transforming Aarti
Via: Bobby Singh From Bobby Talks Cinema