Limited Edition of 25 Silver Ingots of Sikh Heritage Stamps Launched

NEW DELHI, February 24, 2014: In a first-of-its-kind in the world, Hallmark India Pvt. Ltd., part of London-based Hallmark Group, has launched 'The Sikh collection' of 25 pure Swiss Silver Ingots (.999) layered in 24-carat gold of Sikh heritage stamps. To preserve the value for the collectors, the 'Premium Edition' with 25 ingots has only 3,700 complete sets each.
The limited 'Sikh' collection celebrates the rich cultural and spiritual legacy of the Sikhs. To ensure the highest quality, each Sikh Heritage Stamp Ingot has been crafted by the world's finest artisit and Swiss craftmen.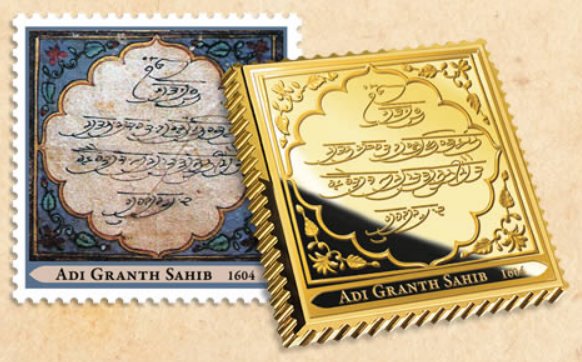 The Adi Granth Sahib opens with Guru Nanak's fundamental creed, the 'Mool Mantar'. It is shown in this exquisite ingot in the handwriting of Guru Gobind Singh, who declared the scripture as his successor, and henceforth to be known as Guru Granth Sahib.
"The 'Sikh' Collection is unquestionably one of the finest collections of engraved silver ingots that have ever been produced, unrivalled anywhere in the world. It has taken more than 40 months of intensive artistic endeavor, fine sculpture and skilled engraving to create the 25 Master Dies ready for minting," said Mr. R.A. Wainwright, Chairman, Hallmark Group Limited.
"The stamps comprising "The Sikh Collection" have been selected from the Sikh Heritage Stamps which are with UK Punjab Heritage Association. They have been carefully chosen to reflect the most important personalities and moments in Sikh history representing the unique cultural heritage of Sikhs," said Amandeep Singh Madra, Chairman, UK Punjab Heritage Association.
The collection commemorates the remarkable impact the Sikhs have had on 500 years of world history. Beginning with the lives of the gurus and the emergence of the Sikh empire, to their role in two World Wars and continuing contribution in modern times through every facet of life.
All ingots are minted in solid silver (2.2mm thick) and layered with pure 24-carat gold, and each stamp perforation is diamond cut. The collection showcases an ingot with the iconic image of Guru Nanak with his constant companions (the Hindu fan-bearer BhaiBala and the Muslim rebeck – player BhaiMardana), the exquisite handwriting of Guru Gobind Singh from 'The AdiGranth Sahib', a vibrant ingot based on 19th century painting which shows Guru Gobind Singh riding a majestically camparisoned piebald stallion, and one ingot shows a historic panoramic view of Harmandir Sahib to mention a few of them.
Placed in a handmade, lacquered wood collector's chest with mother-of-pearl spatula to lift the ingots, each set has 25 complete fact cards and an collector's album, a jeweller's cloth, cotton gloves and a special hardbound edition of "The Golden Temple of Amritsar". Each subscriber is issued an officially numbered 'Certificate of Authenticity', confirming the edition limit and the precious metal purity of each stamp ingot. Each ingot will vary in size and the price of each is fixed at Rs. 8,500 (inclusive of all duties and taxes).
"For more than three decades, Hallmark Group has dedicated itself to the reproduction of historic images as engraved solid silver ingots and 'The Sikh Collection' is a rare and treasured heirloom which needs to be preserved for future generations," added Mr. Wainwright.
For more information on "The Sikh Collection", please visit www.thesikhcollection.com orhttps://www.facebook.com/pages/The-Sikh-Collection/1425432231028702?ref=hl

About Hallmark:
For over 36 years, The Hallmark Group has collaborated with governments and philatelic organizations throughout the world to celebrate and commemorate important national events. Hallmark re-creates historic postage stamps as a series of exquisitely engraved ingots, flawlessly minted in solid silver and plated in pure gold. Open to limited public subscription, each hallmark Commemorative Issue is an authentic record of unique quality and becomes a truly valued testament for future generations. With operating divisions throughout Europe, America, Asia and the Pacific, The Hallmark Group has unrivalled world experience in commemorating events of national importance.

For more information, please visit http://www.hallmark-group.co.uk/
Primary Media Contact: Shrishti, shrishti@absolutefactor.com, 91-96501-87059
Secondary Media Contact: Swati Shukla, Swati@absolutefactor.com, 91-96506-20877

SOURCE Hallmark India Pvt. Ltd.
Originally Published By: PR Newswire