Gurdwara Shri Guru Nanak Dev Ji is an historical sikh shrine present there which was discovered by Baba Narayan Hari, the history of the gurdwara sahib is mentioned in Bhai Bala Janamsakhi and Twarikh Guru Khalsa.
Gurdwara Shri Guru Nanak Dev Ji is located where Sri Guru Nanak Dev ji was with his Sikhs in the Himalaya mountains of India. His sikhs were hungry and there was no food. Guru Nanak sent his Good Friend Bhai Mardana to collect food for langar (the Community Kitchen). Many people donated rice and flour (atta) to make parsadas (bread). The one problem was that there was no fire to cook the food.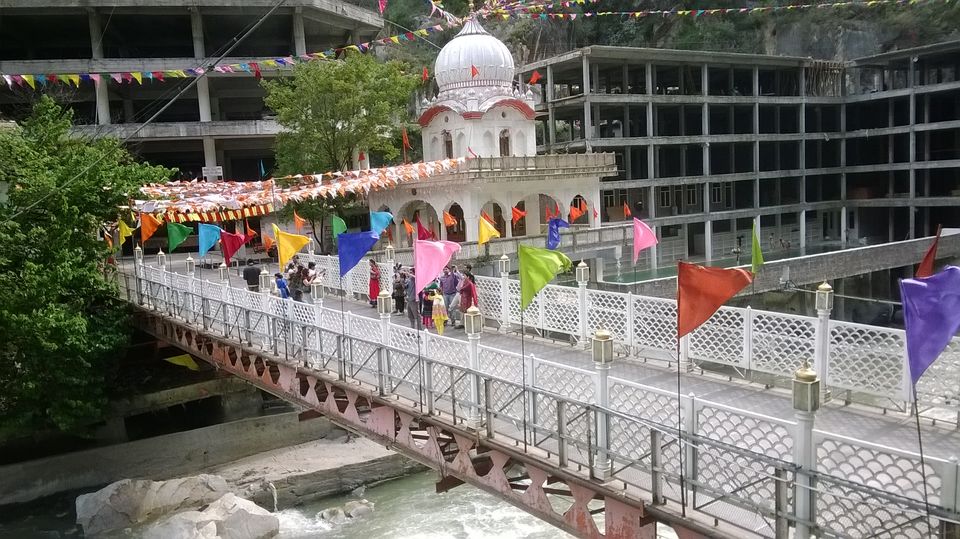 Guru Nanak than lifted a rock and a hot spring (hot water) appeared. The Sikhs were able to make rice and beans. Bhai Mardana was having trouble making parasadas (chapatis) because they kept sinking. Bhai Mardana said, "I am going to donate my life in the name of God". The parsada amazingly floated. Guru Nanak Dev Ji said that anyone who donates his life in the name of God, All his (or her) drowned items will float. This was a miracle.
The place is famous for its hot boiling sulphur springs, which are revered by lakhs who come here for a dip in the curing waters. It is believed that the hot springs can cure skin diseases or even ease the swelling caused by gout. A huge Gurdwara has been erected in the memory of Guru Nanak who is believed to have visited this place. A number of Sikh and Hindu pilgrims visit the Gurdwara every year. The Ram Temple mentioned above, built in the 16th century, is situated near the Gurdwara.
Langar cooked in the hot springs
Sikhs Pilligrimage to Manikaran
The village 'shatt' is on the way where once a cloudburst had turned the village into a nullah. An awe-inspiring experiment at Manikaran is that of cooking rice or dal in the boiling hot waters. Tourists can experience this by purchasing 'chawal potli' (rice in a muslin bag) from the nearby market. The gurdwara management prepares tea and food by putting huge vessels in the water. There is a water pool in the gurdwara where one can enjoy a hot bath. The local residents use hot water in narrow bazaar through pipes.
Tibetans dominate the market here where one can buy religious idols, offerings, books, prasad, and Tibetan products. The amazing union of cold water and boiling springs in Parvati river has mystified many a scientist and the devout alike. Nature has used an array of colours, textures and materials to form fascinating mountains with many medicinal herbs. Transparent stone crystals, which resemble topaz, can be found at some points.
Water flowing through the curves of hill land shapes has given rise to driftwood in various shapes and forms. Due to the climate, local vegetables and pulses like rajmah and urad are of rare quality and taste different from those available in the plains.