Top 10 Famous Sikh Statues all over the world
1. The first is of Maharaja Duleep Singh (son of Maharaja Ranjit Singh) in Thetford, UK. Nearby you can also find Elveden Hall where Maharaja lived and the tombstones for where Maharaja Duleep Singh was buried along with his mother Maharani Jind Kaur.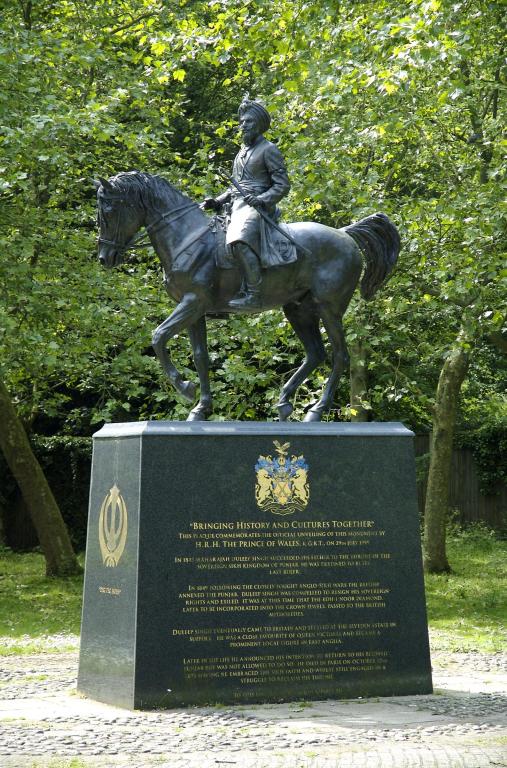 2. A Sikh Guardian Statue, found in Penang, Malaysia, demonstrating the belief that Sikhs are loyal and protectors of humanity.

3. Is General Zorawar Singh in Leh, a great valiant general in Maharaja Ranjit Singhs army. This statue is located in Ladakh.
4. The War Hero statues that were unveiled at the National Sikh Museum in Debry, England.
5. In honour of the 300 years of the Khalsa and the mass contribution of sacrifice in the World Wars, this statue of Sikh Soldiers was raised in Forli, Italy .
6. This statue is of Mohinder Singh Pujii in Gravesend UK. Mohinder Singh was one of 24 Indian Air Force pilots sent to UK to fly with the RAF during the battle of Britain.
7. Sikh Soldier statues in front of 1939 Grave in Singapore at the Bukit Cemetary. A legend believed by the natives is that once a person dies, their soul will remain protected by the Sikh soldier.
8. Sikh soldiers represented on a pedestal of the statue erected to Earl Minto, Viceroy to Indian between 1905 and 1910. Victoria Memorial, Kolkata, India
9. Maharaja Ranjit Singh, the king of the Sikh Empire, statue in Amritsar, Punjab.
10. Maharaja Duleep Singh Statue in Chandigarh
11. Shaheed Banda Singh Bahadur statue in Chappar Chiri Chandigargh.

12. Sikh statue honoring Sikhs for World War 1