The tweet with the caption 'Will the real Monty Panesar please stand up' was called racist by many and there was a lot of Twitter lashing at the official Twitter account of Cricket Australia who were forced to apologise for the tweet.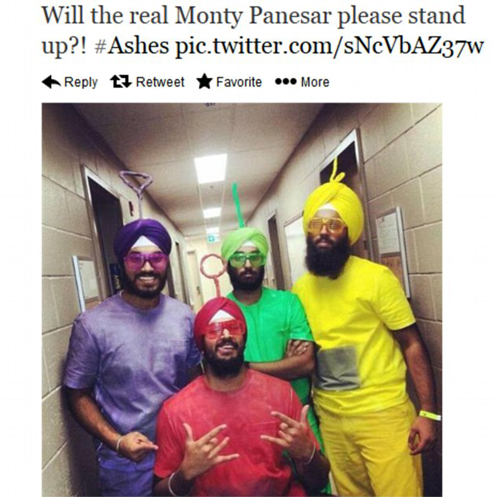 The Cricket Australia tweet that was deleted later – Twitter
The Ashes have already heated up with Michael Clarke and James Anderson's tete-a-tete, Jonathan Trott's departure and many on field antics between both England and Australia.
Cricket Australia (CA) on Thursday took the battle to a racist level by tweeting from their official handle a picture of four Sikh men dressed as Teletubbies with a caption accompanying the picture that read, 'Will the real Monty Panesar please stand up'.
For a country known for its racial hate crimes towards people from Asia, this type of behaviour from the Australian cricket board was immature and totally uncalled for.
Monty Panesar who has been at the centre of some bad behaviour after his urinating incident at an English pub a few months ago was named in the English squad for the second Ashes Test at the Adelaide Oval.
Trying to be funny the CA handle sent out the tweet as soon as the line ups were announced. The tweeted earned it a lot of flak on social media forcing them to delete it and apologise.
Four men dressed as Sikhs in turbans and in matching outfits in bright colours – from left to right, purple, red, green and yellow. All are wearing sunglasses and have beards.
The English Cricket Board has asked for an explanation for the tweet.
Originally Published By: DNA